Dr. Shikha Kapoor is a keen HR and Educational Consultant, who has 27 yrs of experience in Consultancy, Corporate and Academics. She has done Ph.D in HR (Topic – "An Analytical study of the impact of work related stress on Organisation effectiveness") Education from Delhi University.
is
She is Specialist in HR Consultancy, Talent Assessment – Individual, Team Assessment, Training & Development. She has written 15 books, 11 Book reviews , 11 International( USAID , World Bank ) and National Consultancy to credit and 100 international and national conference paper presented and published Consultant -ADB ,GLC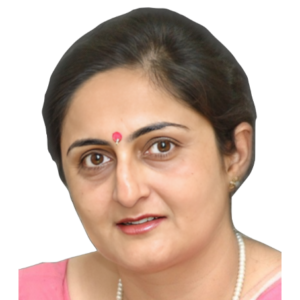 5 scholars have been awarded, PhD degrees under her guidance & Still under her supervision. SRC member for 15 scholars.
100+ Publications in Reputed International and National Journals , 15 Chapter in Books ( Springer ,
Taylor Francis , Bloombury Publisher etc
Dr. Shikha Kapoor is Freelance Corporate Trainer in Attitudinal, Behavioural, Motivational and Self Development Programs for Corporate and Educational Institutions. Corporate includes NPTI and the training held for PSU's( IPGCL, Delhi Transco, Satluj Vidhut Nigam, Power Grid Corporation of India, Reliance, BSEB, RSEB, PSEB, USEB, BHEL Central Electricity Authority in Corporate Office (National Power Training Institute, Ministry of Power) IOC Ltd , Larson & Toubro Ltd, JCB India Ltd, Humboldt-Wedag Ltd, Luxor writing Instruments Ltd, Intrex Computers, GKN Driveline, JBM, Neel Metal Pvt Ltd, Escher Wyss Flovel Ltd, Escorts Ltd, Imperial Auto Industries, Orient Fans, , IPGCL, NTPC, NHPC, GAIL India ,Fortis Hospital, Oriental Staff Training Institute, Sona Steering, Nuchem, Shivani Locks, Maharani Paints, Andriz Hydro Lanco Infrastructure ,( CBIP )Central Board of Irrigation and Power, Haldor Topse Pvt Ltd.,Oriental Insurance Staff Training and many more..
Dr. Shikha Kapoor also has started SANCHETNA (NGO) and opened 40 schools for child labourers. Dr. Shikha Kapoor also life time Member of many Professional Bodies like Indian Society of Training and Development & All India Management Association..
Consult many Educational Institutions & Conducted Principal's Workshop for 105 Principals of DAV School all over India on "Effective Institutional Management". Faculty Development Program and Student Development Programs in various schools of Delhi and NCR..
Guest Speaker for LIVE SHOWS in DD National Channel in Stress Management, Coping with Aggression, Examination Anxiety, Career Counselling, Career opportunities' etc..
Guest Speaker in Habitat Centre, New Delhi on Work Life Balance for working women, Parenting Skills in the 21st Century.
Dr. Shikha Kapoor is also part of Panel for selection of JE, AE for Bihar State Electricity Board.(BSEB)
Conducted many workshops on G.D and Interviews for B.Tech and M.Tech students at YMCA Faridabad ( a premier Institute for Developing Engineers) and workshops in for Management Students in Asia Pacific Institute of Management, Lady Irwin College, Kamla Nehru College, Delhi Business School, NIAM (National Institute of Applied Management), Ramanujan College of Management Studies, Bhai Parmanand College of Business Studies, NGF Institute of Management and Technology etc.
Started Mass Awareness of Child Labour in Faridabad in 2008 -2009 and did a National Project on Survey for National Child Labour Project for the Ministry of Labour.
She is also External examiner for evaluation of thesis of different Universities, Organised various international conclave and Summits in Human resource
Review Board Member and Technical committee member for International Conferences, Review board member of 12 International and national indexed journal, Have been session chair of Various International and national conferences ,Conducted FDP's and Guest speaker for various Universities, Institutes and corporates , E content developer for various courses of HRM . Have taken e learning programmes for Africa for 17 Human Resource specializations and Management related subjects .Organised various international conclave and Summits in Human resource . 
Also conducted various webinars in the management area . Attended various international summits for enhancing self in management and future growth and development.